West Azerbaijan province located in the northwest of Iran is one of the most populous and important provinces of the country. Medical imaging services in this province, especially urmia city, are provided with good quality. But many residents of West Azerbaijan and Urmia usually ask what are the best medical imaging centers in Urmia and West Azerbaijan. In the scan of medicine, we explain each of the medical devices and the best imaging centers related to each one.
Best ultrasound centers in Urmia:

Ultrasound
is a diagnostic medical procedure that uses high-frequency sound waves to produce dynamic visual images of organs, tissues or blood flow inside the body. Images can provide valuable information to diagnose and guide the treatment of a variety of diseases and conditions inside the body, such as pregnancy, which is a painless and rapid procedure resulting from ultrasound.
To do this, the sonologist puts a special device (Probe probe) on the patient's limb, and sound waves that are not audible to the human ear are illuminated into the body, which is reflected after hitting different tissues of the body and the reflected waves are re-received by the same device, which is analyzed by a computer and converted into an image.
In order to receive your ultrasound appointment in West Azerbaijan province through the Scan Teb website, you can take turns online from the centers that have activated your online appointment or go to the centers to receive the imaging services in attendance. One of the most important and advanced imaging centers in West Azerbaijan province was Dr. Jalili Radiology Imaging Center, Sina Clinic, Sardaran Medical Complex, Shams Hospital, Danesh Radiology .
The best nuclear medicine centers in Urmia and West Azerbaijan province: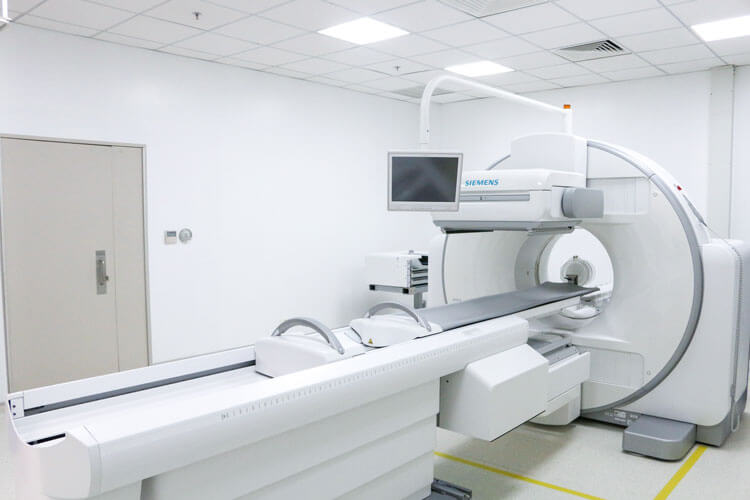 Nuclear Medicine One of the imaging and diagnostic methods is in which small amounts of radioactive substance called radiotrackers are used to diagnose, evaluate or treat a variety of diseases such as cancer, heart disease, gastrointestinal problems, endocrine or neurological disorders and other abnormalities.
This method, since it can determine molecular activity, therefore has the potential to detect the disease at an early stage. It can also indicate whether the patient has responded to the treatment. Doctors use nuclear medicine imaging methods to visualize the structure and function of organs, tissues, bones and systems within the body, such as myocardial perfusion scans, evaluation of treatment options such as heart bypass surgery and angioplasty, evaluation of bone tumors, assessment of lymphatic swelling, assessment of ventricular shunt openness in the brain, etc.
One of the most important and famous nuclear medicine centers in West Azerbaijan province for turning is Imam Khomeini Hospital Nuclear Medicine Center , Urmia Nuclear Medicine Center Clinic , Dr. Firoozi nuclear medicine and Dr. Fazeli in Urmia and Dr. Shafipour Nuclear Medicine Center .
Best MRI centers in Urmia and West Azerbaijan province: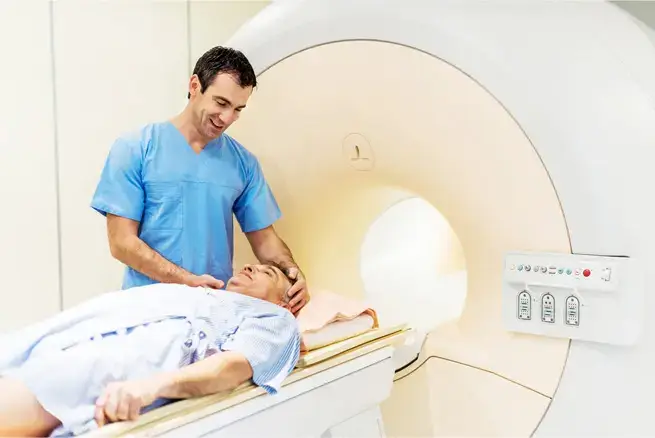 MRI

or magnetic resonance imaging is a non-invasive and painless diagnostic procedure with high detail that is used to provide detailed images of different tissues and organs of the body. In MRI, a powerful magnetic field and radio waves are used to create detailed images of the body's organs and tissues.
It is used to diagnose specific types of heart problems, breast cancer screening for women who are at high risk of breast cancer, joint injuries or abnormalities such as back and knee injuries, evaluation of pelvic pain in women with causes such as fibroids and endometriosis, and evaluation of tumors such as brain tumors, cysts and other abnormalities in different parts of the body.
One of the most important and famous MRI centers in West Azerbaijan province for turning is Shahid Arefian Hospital of Urmia, Dr. Masoud Ghahremenloo Medical Imaging Center, Urmia Imam Khomeini Hospital, Multi slice imaging center of Andisheh.
The best CT scan centers of Urmia and West Azerbaijan province: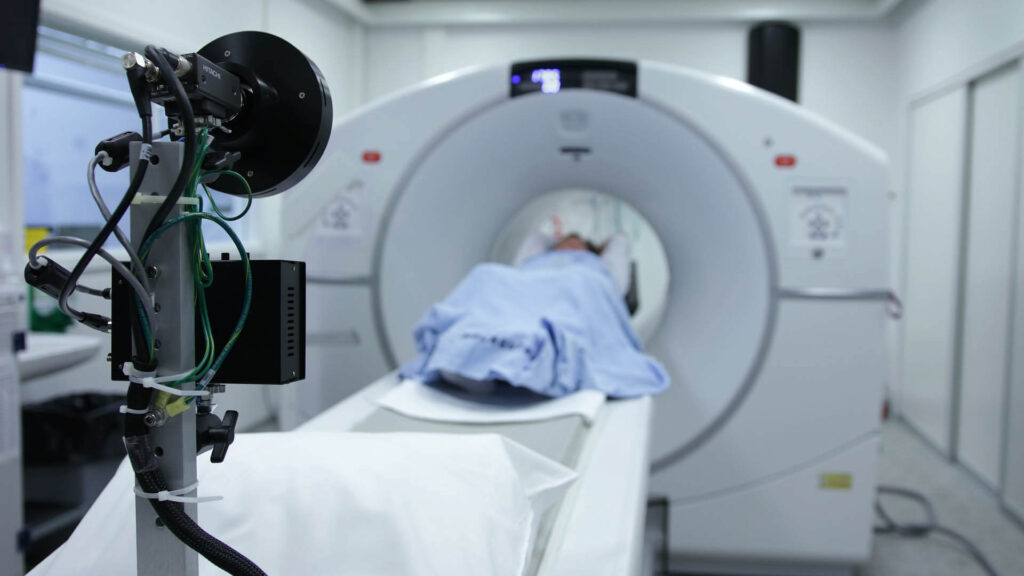 CT scan

is one of the advanced methods of medical imaging. It combines a series of X-ray images taken from different angles that use computer processing to create images or cross-sectional incisions of bones, blood vessels and soft tissues within the body. CT scan images provide more detailed and accurate information than X-rays. CT scans have many applications, but this method is especially suitable for testing and examining people with internal injuries caused by accidents or types of trauma.
Its applications include diagnosis of bone and muscle disorders, guidance and assistance to processes such as surgery, biopsy and radiotherapy, monitoring the effectiveness of certain treatments such as cancer treatment.
To make an appointment through the Teb Scan website or link, you can make an appointment online from the centers that have enabled your online appointments or go to the centers for in-present imaging services. One of the most important and famous CT scan centers in West Azerbaijan province for turning to multislas andisheh imaging center, Imam Khomeini Imaging Center, Milad International Hospital of Urmia, Valiasr Comprehensive Imaging Center of Urmia .
One of the best radiology imaging centers in West Azerbaijan:


Radiology

or imaging science is a branch of medicine that deals with radiant energy in the diagnosis and treatment of diseases. The purpose of radiology is to diagnose internal problems, prevent injury and pain, before the disease becomes too serious. Because it enables doctors to diagnose diseases faster and more accurately. Radiologists analyze different conditions or injuries in images such as X-ray images to help diagnose and treat them. Medical radiology is divided into two major specialized disciplines based on what factor it is used in: One is nuclear medicine, which is the basis of their work on radioactive materials, and the other is radiology based on X-rays and various characteristics.
Radiology uses simple and rapid investigations of abdomen, esophagus, stomach, intestines, kidneys, third tonsils, kidney stones and diagnosis of fractures. One of the most important and famous radiology centers in West Azerbaijan province for turning to Imam Khomeini Imaging Center, Nabi Akram Imaging Center, Shahid Gholipur Imaging Center .
One of the best mammography centers in West Azerbaijan province:


Mammography

is a breast x-ray technique that is used as a breast cancer screening tool. Along with regular medical examinations and monthly breast self-examination, mammography is a key part of early detection of breast cancer. One of the most widely used and accurate methods of breast imaging is actually a tool that can show breast cancer up to about 10 years before the disease occurs. In this method, low-dose X-rays are used for photography, which lasts about 15 to 20 minutes, as well as some devices work in standing position and some are asleep.
One of the most important and famous mammography centers in West Azerbaijan province for turning to Dr. Simin Raheedati Center, Specialized Ultrasound Dr. Siavash Nouri, Dr. Soheila Torkamani Center .
One of the best jaw and face imaging centers in West Azerbaijan province:
In order to be diagnosed more accurately and better, after clinical dental examinations, referrals may be referred to radiology centers for dental images. The type of images and its number depends on a variety of factors such as age, number of visits to the dentist per year, how to observe hygiene, hereditary background, a person's susceptibility to decay and oral diseases, etc. References as well as clinical examination of dentists that for intra-oral imaging require the absence of moving metals inside the mouth and in the path of radiation such as glasses. During imaging, lead gowns and thyroidbands can be used to protect radiation.
This type of imaging technique can detect various diseases of the jaw, mouth and surrounding areas, including cysts, inflammatory lesions, infection, oral tumors, etc. even in the early stages without symptoms.
One of the most important and advanced oral imaging centers in West Azerbaijan province for turning is Rad's maxillofacular radiology, Makan radiology, radiology and taban ultrasound (Dr. Resolute), Radiology Dr. Leila Shahriarfar and Dr. Hassan Mahmoudzadeh Center.
One of the best angiography centers in West Azerbaijan:


Angiography is an

X-ray of blood vessels that is performed using contrast materials injected into the bloodstream through a thin plastic tube (catheter) located in the blood vessel. The images taken are called angiography. Angiography provides information about blood vessel disorders such as narrowing, obstruction, inflammation, abnormal spread and bleeding, using the fluid contrast material of the vein to make blood vessels visible in the X-ray beam. This test is used to study narrow, blocked, large or incomplete arteries or veins in many parts of the body, including the brain, heart, abdomen and legs.
The applications of this method include determining the severity and location of stenosis and blockage of blood vessels that cause symptoms of the disease, initiation of treatment for a blood vessel and locating the site of bleeding. The results of angiography will give you a reggae map where any blockage and stenosis of the vessels will be determined. After angiography and time of diagnosis, the angiographic response including CD and report will be given to the patient.
Seyed al-Shuhada Heart Hospital, Shams Urmia Hospital, Shafa Private Hospital, Shahid Motahari Hospital are good medical centers in West Azerbaijan province.
Medical scan services for medical imaging centers and patients:
Medical imaging centers throughout the country can join the medical scan and publish their center services for patients and people for free, including the introduction of various medical scans such as MRI, radiology CT scans, ultrasound, nuclear medicine, bone density, angiography and mammography and maxillofacial imaging.
Patients can receive high scans through medical scans and receive the fastest scans from Urmia and West Azerbaijan. To get

an MRI appointment in Urmia,

you can apply through a medical scan.