Usually, everyone in life deals with himself or an acquaintance at least once to the MRI. Now if you are a resident of Kerman city and you plan to take the turn of M.R.A. Kerman, then it is better to read this article. MRI is one of the most widely used diagnostic methods for medical imaging that can accurately show many problems and diseases inside your body.
Mri is a medical imaging technique that uses magnetic fields and computerized radio waves to create accurate images of the patient's organs and tissues. MRI is a non-invasive and safe medical imaging method that is used to accurately examine organs and bones and skeletons. MRI creates high-resolution images from inside the body that can help your doctor diagnose a variety of problems and diseases.
How the MRI device works
When your body is placed inside an MRI machine, the magnetic field temporarily directs water molecules in the body in a row and neatly. Radio waves are then sent to a part of the body, causing these aligned atoms to become irregular again, absorbing energy and generating weak signals, which are used to create MRI images.
MRI is widely used in hospitals and clinics for medical diagnosis, staging and follow-up of the disease. Compared to CT scans, MRI provides a better contrast in images of soft tissues, for example in the brain or abdomen. However, due to scans usually longer and longer, MRI may be a little harder and more frustrating than other imaging methods such as radiology and CT scans. So to do MRI, you have to look for a good MRI center so that you don't regret it later!!
Features of a good MRI center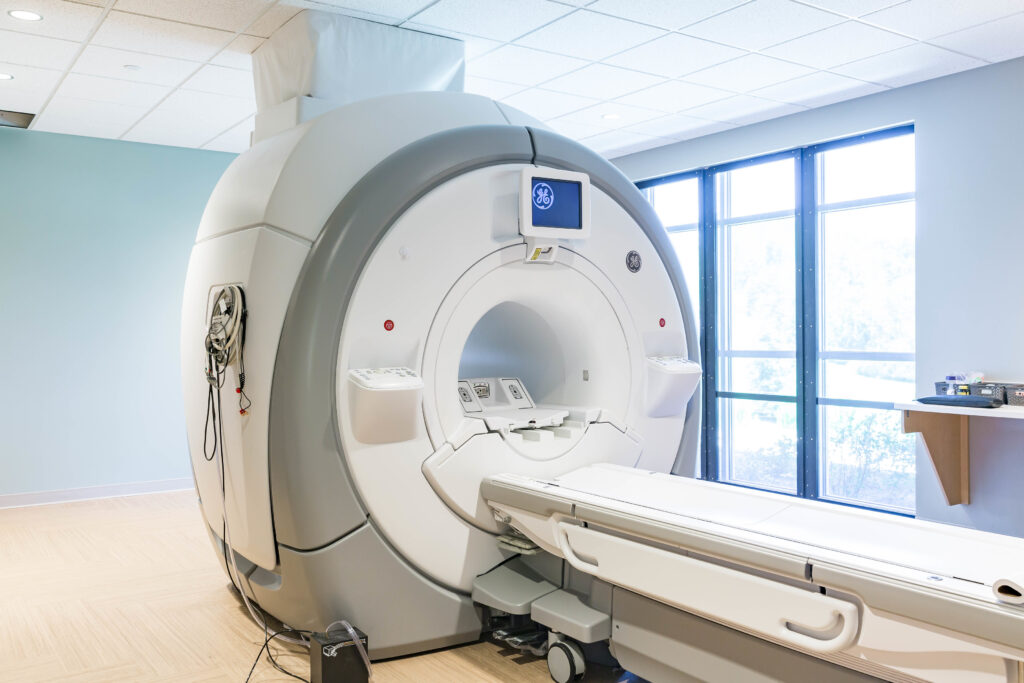 Many people have at least once in life and are generally familiar with it, but this is not enough to know a good MRI center. What should I know to find a good MRI center?
Scanning medicine, however, specializes in evaluating these centers in the country and evaluating the best imaging centers in each city in terms of technical and specialized indicators and criteria.
A good MRI center should be checked in the following directions:
Personnel and medical staff
The experience and expertise of medical personnel and staff can be very influential in determining the quality and rank of an MRI center. Because all stages of the scan from admission and receiving appointments to the completion and delivery of the report and the response of your MRI scan are dependent on the personnel and medical staff of the MRI Center. Having sufficient expertise and skills in this field can greatly improve the quality of services and services provided to clients.
Quality of turn-by-turn service and sending answers
Today, shifting and response delivery services are one of the main factors in determining a good MRI center. Logging and sending MRI answers online will save you a lot of time and money.
Center-neighborhood location, interiors and installations
The location of the MRI center is one of the most important points in determining a good MRI center. A suitable location for the MRI center is a place where visitors can easily access the MRI center and public transport is available. For example, there is a metro station or bus near the center. Also, the interior of the center should be beautiful and clean.
Mri machine equipment and supplies are very sensitive and expensive. So the center that costs a lot of money to supply and maintain this equipment is definitely among the good centers of MRI.
Imini and the security of the MRI machine are another influential factor. In general, MRI is a safe device, but some possible risks, such as falling out of bed or electrocution, etc. There is.
Price is also one of the determining factors. Although the price of MRI tariffs is determined annually by the Ministry of Health, private centers usually raise their prices with different excuses. Therefore, the price of MRI can also be considered as another influential factor in choosing the best MRI centers in Kerman.
Now that the evaluation criteria of MRI centers have been determined, we intend to rank the MRI centers in Kerman. Therefore, here you can get to know the best centers of M.R.A. kerman. They can be private or public and private hospital imaging clinics.
Best MRI centers in Kerman
MRI Shahid Bahonar Hospital in Kerman
Shahid Bahonar MRI Center was established in September 2020 with the aim of improving diagnostic services based on the findings of the medical day to provide unique services based on the experiences of experienced experts and experts. The center is equipped with an MRI 5/1 Tesla device manufactured by Siemens, Germany.
M.R.A. Specialized Services, Shahid Bahonar Hospital, Kerman
MRI angiography (MRA) of vessels in different regions including brain and neck, upper and lower extremities, kidneys
MRV of vessels in different regions including brain and neck, upper and lower extremities
MRI of joints and organs such as shoulders, knees, wrists, elbows, sacroiliac, TMJ
MRI (MRU) for evaluation of kidneys, bladder and urinary system
MRCP for evaluation of gallbladder, pancreas and bile ducts
Dynamic MRI from different regions including the pituitary and liver
MRI of the brain, spine, eyes and optic nerve
Fesitolography and evaluation of pelvic abscesses
Magnetic Spectroscopy (MRS)
Chest MRI
Dr. Majid Tahmurthy Imaging Center in Kerman
Dr. Majid Tahmurthy Imaging Center of Kerman is one of the most equipped and best medical imaging centers in Kerman.
Imaging services in Dr. Majid Tahmurthy Imaging Center of Kerman includes different types of ultrasound, radiology, MRI, CT scan.
Contact Information of Dr. Majid Tahmurthy Imaging Center in Kerman:
Address of Dr. Majid Tahmurthy Imaging Center in Kerman: Kerman – Azadi Square – Corner of Bahmanyar – Vali-e-Asr Building
M.A. Center of Sepehrfsanjan Kerman
Mr. Sepehrfsanjan Center of Kerman is located in Hazrat Ali Ibn Abitaleb Hospital and the services provided in this center are MRI and CT scan.
Contact Information of M.A.R. Sepehrfsanjan Center in Kerman
Address of M.A. Center of Sepehrfsanjan Kerman: Kerman, Rafsanjan, Taleghani Boulevard, Ayatollah Saeedi Square, Hazrat Ali Ibn Abitaleb Hospital
Contact number of M.A.R. Sepehrfsanjan Center in Kerman: 34288068-034
M.R.A. turn in Kerman
In order to take an MRI turn in Kerman, you must first know a little bit about its challenges. Mri shifts have been taking place for years in person and spending a lot of time (traditional method). In this method, you need to go to the relevant center once in person to make an MRI appointment for yourself or your family members, and after receiving the appointment, you should go back to the center for MRI imaging at the specified time and day. Perhaps for most people this method did not bring a pleasant experience.
One of the major challenges facing medical imaging services is due to delays associated with long waiting lists for MRI imaging methods. Such delays in diagnostic methods can lead to serious and irreparable damage to patients' health.
In addition to all this, in many cases patients or patients' companions are sometimes confused due to little information about the process of receiving MRI appointments and performing MRI scans (which is completely normal). This means that they may go to a center at a cost and time and find that the MRI imaging center, for example, is unable to perform that particular type of MRI scan or does not perform a heavyweight MRI. So they need to go to another center, which causes them to have a lot of trouble.
But medical scans have provided a new method for the convenience of dear compatriots throughout the country. In the scan of medicine, you can easily book an MRI in Kerman for any time you are comfortable. This MRI booking allows you to manage your time yourself with the lowest cost and great comfort.
To learn more about MRI scans and how to prepare for it, we recommend you to visit the MyoClinic website.