Cardiac scan in Tehran is one of the most questionable topics raised by medical scan users. In fact, heart scans are known as coronary calcium scans. A heart scan is an X-ray that displays a picture of your heart. This scan helps doctors easily identify and easily measure plaques that contain calcium in your arteries. To take a heart scan, you can go to the medical scan website and book an appointment easily.
As mentioned above, doctors can easily identify your artery plaques with the help of a heart scan. Plaque inside the heart vessels can grow so that it can limit blood flow to the heart muscles. Calcified plaque by scanning the heart may allow the doctor to identify possible coronary artery diseases before showing signs and symptoms.
Plaques consist of cholesterol, fat, calcium and other substances in the blood. This type of disease develops over time before it shows symptoms. It can also be said that platelets may burst, causing blood clots in the heart, leading to a heart attack.
In fact, a heart scan is for when your doctor wants to better understand your heart disease. This type of scanning is actually a specialized X-ray technology called tomography. Heart scans are used when diagnosing heart disease, chest pain, after myocardial infarction, evaluation of heart blood flow after open heart surgery, and also to check for damaged tissues in the heart.

Nuclear Heart Medicine
Nuclear medicine methods are primarily used to diagnose heart disease. One of the most common heart diseases is the heart corner, which is used to diagnose it by heart scan. Myocardial infarction occurs when the coronary arteries of the heart are taken by a blood clot.
Types of heart nuclear scans
Heart scans are actually divided into two categories: Myocadr perfusion and MUGA scans. Myocardial perfusion scans are used to measure the amount of blood flow in the heart muscles. In this scan, the tracer is absorbed by healthy heart tissue and determines areas where not enough blood is reached. Myocader perfusion scans are used to diagnose pain in the chest area, coronary artery disease and damage to the heart muscle.
Muga heart scan, or blood pond scan, is used to measure the amount of blood pumping by the heart. As the majority know, there are two cavities in the heart called the left ventricle and the right ventricle, which are known heart pumps. The left ventricle transmits the blood it takes from oxygen to the entire body, and the right ventricle transports a little oxygen to the lungs to get oxygen. Muga heart scans are used primarily when the heart is pressured by medication and exercise. In addition, muga heart nuclear scans are used to detect the size of the ventricles, measure blood drainage fractions or the same amount of blood pumping by the ventricles.

Heart Spectrum Scan
Cardiac spectrospy scans allow doctors to easily examine the internal organs of the body. This type of heart scan is actually a nuclear imaging test. In the heart spectum, there's a radioactive material and a camera that's used to create 3D images, and doctors can see your internal organs, while X-ray imaging tests show the structure of your body's organs.
The uses of cardiac spectum are that it can detect bone, brain and heart disorders. In relation to the risks of cardiac spectrectomy, it should be said, a scan is safe but cannot be used for pregnant women because the radioactive substance is passed on to the fetus. If you want to get acquainted with the details of the heart scan answer, you can click here.
Complications of heart nuclear scans
According to medical records, heart nuclear scans have few complications. Unconsciousness, heart rate irregularities, chest pain only when a person has coronary artery disease, and sometimes a heart attack are examples of heart scan complications. Remember that before performing a heart scan, if you have things like: Diabetic disease, allergies, using a pacemaker or if you are pregnant or breastfeeding, be sure to inform your doctor.
List of best nuclear medicine centers in Tehran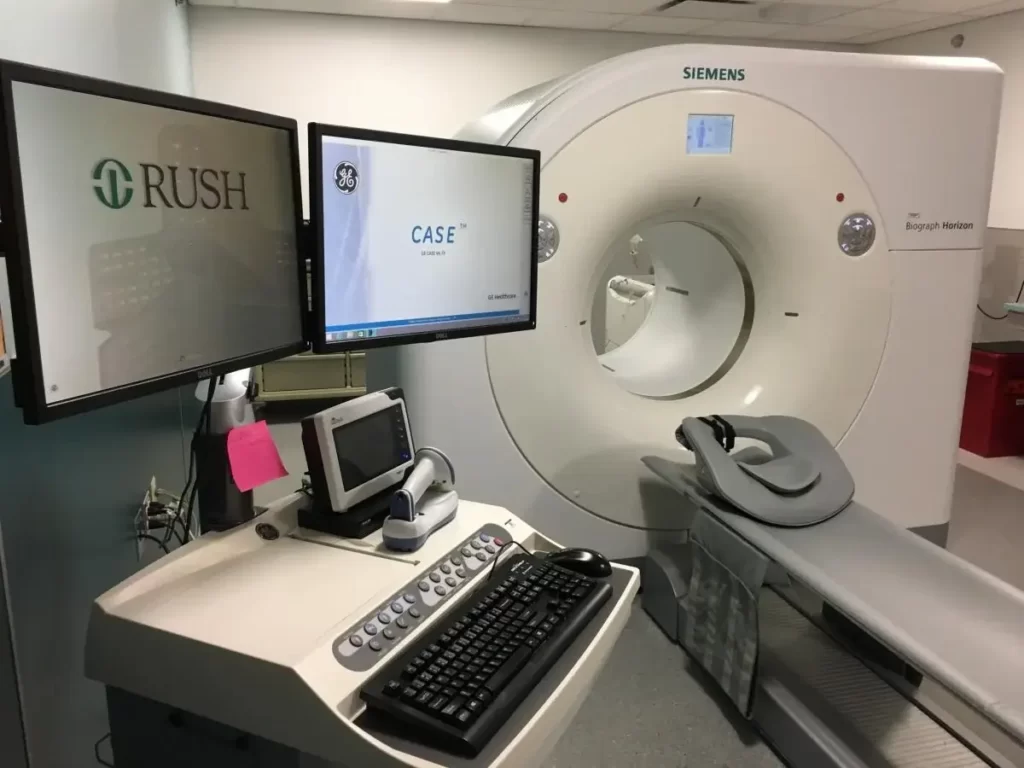 1. Asia Nuclear Medicine Center in Tehran
Asia Nuclear Medicine Center is one of the specialized nuclear medicine imaging centers located in Saadat Abad. To contact the center, you can: Tehran, Saadat Abad, 16th Street, 24th floor. And for previous coordination you can number with: 02122364434 call or take a heart scan from Asia Nuclear Medicine in Tehran.
2. Alpha Nuclear Medicine Center in Tehran
Alpha Nuclear Medicine Center has been operating in two morning and evening shifts since 2006. This center has attracted many users with expert physicians and advanced equipment and is ready to perform bone density measurement and nuclear medicine services. The centre is covered by social security insurance, the armed forces and health services.
To contact this center, you can: Tehran- Enghagh Square, North Kargar Street, above fatemi crossroads, above the gas station, No. 1977, Nahid Building, first floor. Or for previous coordination you can by numbers: 02188019382 – 02188007587 also call or take a heart scan from Alpha Nuclear Medicine in Tehran.
3. Sahib Kowsar Nuclear Medicine Center in Tehran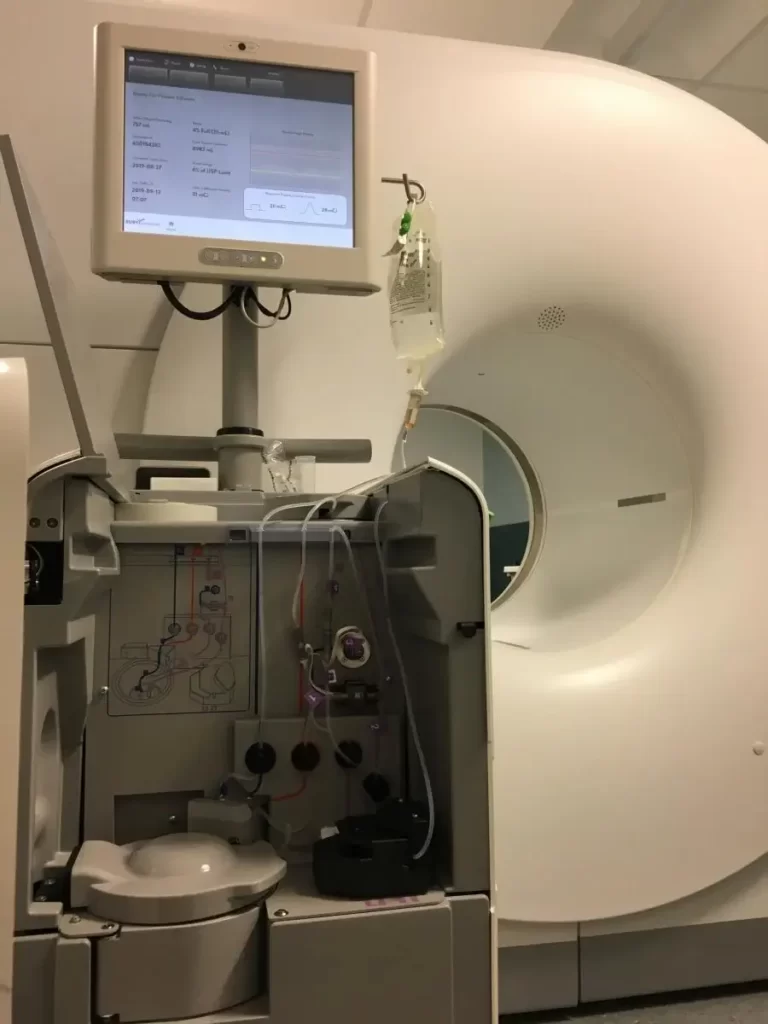 The center has been operating since the second half of 2017. Sahib Kowsar Nuclear Medicine Center uses gamma-comra spect device for better diagnosis of diseases, which is considered one of the best devices. With the help of its specialist doctors, the centre is able to scans such as: Do heart, bone, thyroid, kidney and more.
To contact this center, you can: Tehransar – Golha Boulevard – Intersection of Laleh Boulevard- Sahib Kosar Hospital. Contact Number: 02144594062
Or take a heart scan of Sahib Kowsar's nuclear medicine in Tehran.
4. Nik parto Nuclear Medicine Center in Tehran
Nik parto Medical Center is also one of the best nuclear medicine centers in Tehran, located in district 5. To contact this center, you can: Tehran- 2nd Square sadeghieh- Ayatollah Kashani Boulevard, not reaching the gas station, No. 19. For previous coordination, you can also use the numbers: call 02144035973 or 02144035981.
FREQUENTLY ASKED QUESTIONS TURN TO HEART SCANS IN TEHRAN
How can we get a heart scan online in Tehran?
Where are the cheapest heart scan centers in Tehran?
Where are the best heart nuclear scan centers in Tehran?
This article is provided with the help of heart website information.